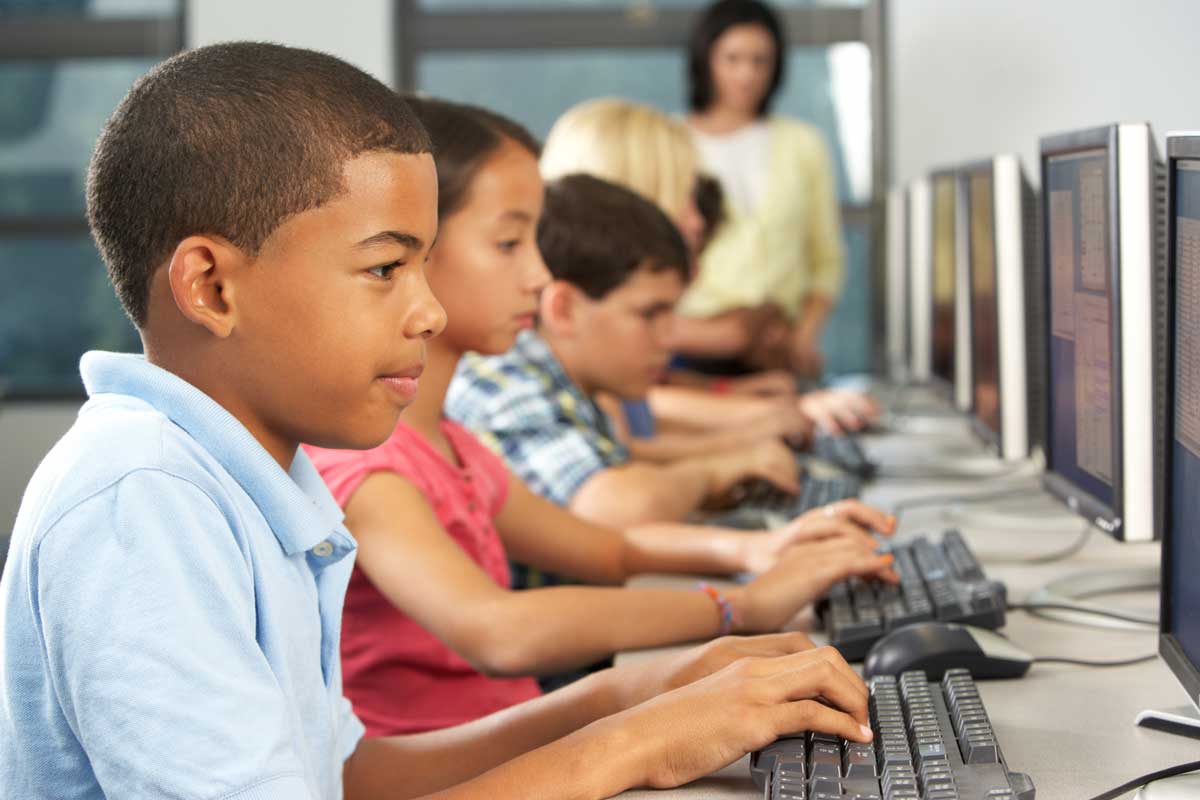 Typing is an incredibly important skill. The foundations students build in elementary school will stay with them all their life, ultimately determining whether they can write essays efficiently, communicate with coworkers or clients in other cities, and even put together a resume. That's why it's so important to choose quality keyboarding lessons for your elementary students.
With a little research, you can find the typing program that best meets all your students' needs. Keep an eye out for these five characteristics:
Gamified Keyboarding Practice
Typing is not exactly a thrilling skill to learn. It would be hard for even the most patient adult to stay engaged while typing 'fgfgfgfg'' over and over, and it's even harder for an energetic child.
The best typing programs are gamified to make lessons more interesting. If you add a fun storyline, a competitive leaderboard, and levels to unlock, keyboarding lessons quickly into a challenging video game that the student is motivated to complete. However, student engagement isn't the only reason to choose a gamified typing program.
Learn-to-type games also make it easier for instructors to track student progress. When testing is built into the game, teachers can see how students are doing in real time rather than only while holding a formal exam. With all the data gathered through gamification, grading and progress tracking is a breeze.
Reporting Features
Some typing programs have extensive reporting and testing features that make life easier for teachers and school districts. For example, Typing Agent allows teachers to see students' progress at a glance, view existing reports, or build their own custom reports.
It's easier for teachers to make time for quality lesson planning when they do not have to spend as much time on progress tracking. If you want to help teachers at your school or district, making grading and reporting more efficient is one of the best things you can do!
Curriculum That Aligns With Other Education Goals
If you wish to invest further in STEM or Spanish language education at your elementary school, you may want to consider a typing program that integrates with these curricula. Some typing programs have built-in introductory coding lessons or enable students to practice keyboarding lessons in Spanish. With these memory-based skills, every bit of extra practice helps!
Schools with ESL/ELL programs may want to invest in a typing program that provides instruction in the student's first language. ESL-friendly keyboarding lessons enable students to avoid falling behind due to the language barrier.
Highly Accessible Keyboarding Lessons
Keyboarding lessons should be accessible for all students. That includes those with learning differences, a single functional hand, impaired vision, and other ability differences.
Look for a typing program with ADA compliant features. For many students, features like dyslexia-friendly fonts or a curriculum that can be adapted to one-handed typing make all the difference.
Valuable Typing Education
With education, you can't assume that the cheapest product will be worthwhile. Free keyboarding lessons often come with significant downsides, like ads that could influence children who haven't yet learned important digital citizenship concepts.
Free typing programs also tend to lack the benefits that are most valuable for teachers and district administrators, such as reporting and progress tracking. Make sure you know what you are getting for the price — or lack of one.
A Web-Based K-12 Typing Program
Typing Agent is a 100% web-based, highly interactive keyboarding program. Our curriculum adapts to each student and automatically tracks progress for both instructors and school districts. Click here to start your demo today!