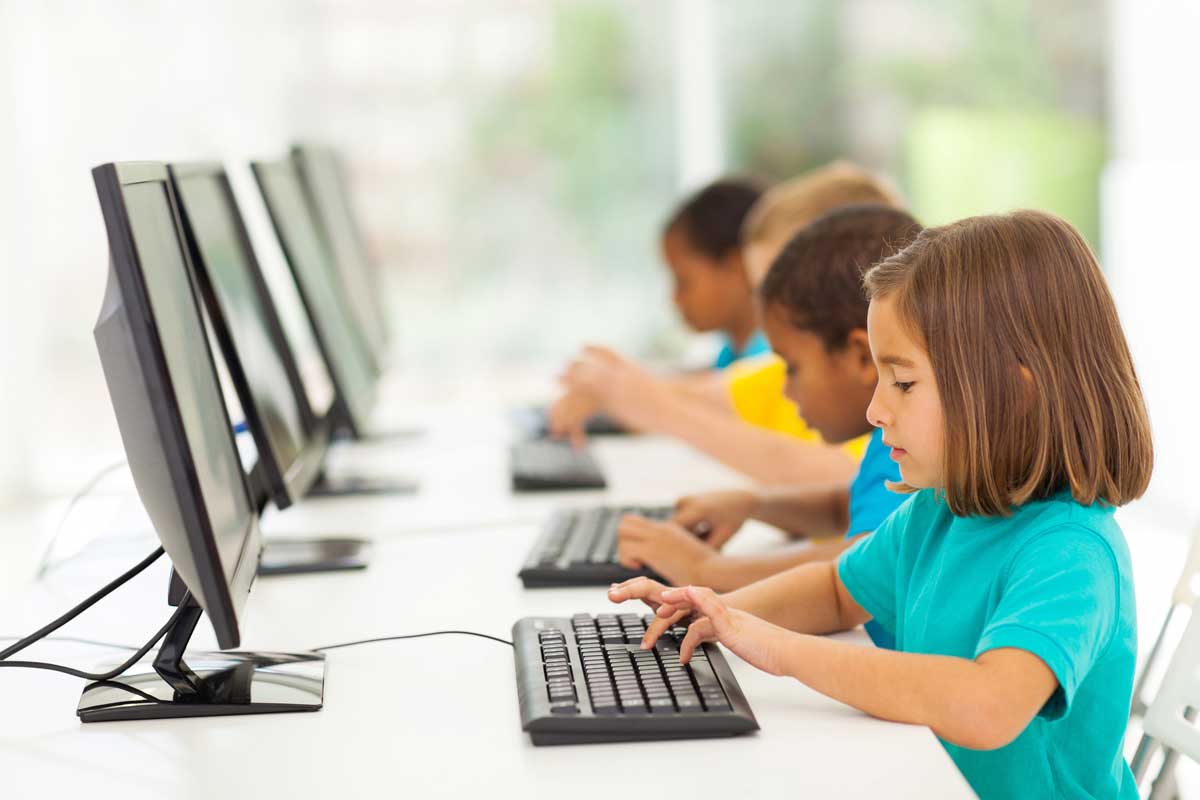 Are you a teacher or school district looking for the best possible keyboarding curriculum? You are probably considering both Typing Agent and TypingClub. These two programs share a lot of similarities as well as some key differences that could make all the difference for many schools and districts.
Both Typing Agent and TypingClub are web-based, gamified typing programs with levels and badges. There are instructional keyboarding videos, a virtual keyboard with hands, and a range of WCAG 2.0 accessibility features. Teachers and school districts using the paid version of each software have access to advanced reporting features.
In this guide, we'll explore the advantages and disadvantages of these two popular typing programs.
Paid vs. Free
Typing Agent only offers a paid version. There are alternative funding options for schools that lack funding for a typing program, but there isn't a free option available to every school as with TypingClub. If you wish to try out Typing Agent before committing to a payment plan, you can sign up for a demo.
However, you can rest assured that your students will be getting a quality typing education. There are no advertisements or security threats, and you will always have access to advanced reporting and school and district management.
TypingClub has both free and paid versions, but the free version comes with significant disadvantages. There are no tests, no SSL security, no multi-school management options, and lower priority support for teachers who use the free version.
The free version of TypingClub also includes advertisements. Ads can be harmful to young children who are more impressionable, may not know how to identify marketing messages, and haven't yet learned digital citizenship concepts, which aren't taught in TypingClub. However, there are no ads with the paid version.
Beyond Typing
Typing Agent may also be a better choice for schools that emphasize STEM learning. The program includes Learn to Type Code lessons, which teach how to type code for JavaScript, HTML, Python, and more. Just like keyboarding, typing code is an art of accuracy. Students need muscle memory for keys that may not be used as often in regular typing programs, such as brackets, slashes, and parentheses. At the end of the program, students build their own keyboarding games.
In addition to keyboarding, Typing Agent includes digital citizenship lessons aligned with ISTE standards. Students will not only learn computer ergonomics and mouse skills but also how to navigate the internet safely and respectfully. These lessons are taught with exciting superhero videos, teacher guides that facilitate discussions, and scenario-based quizzes.
TypingClub may be a better choice for schools that emphasize foreign languages other than Spanish. Lessons are available in French, German, Italian, Russian, Portuguese, Slovak, and Chinese. There are separate versions of the Spanish language typing program for Latin American and Spain Spanish.
In addition, TypingClub includes an English-language typing lesson plan for a standard Dvorak keyboard. The lessons range from beginner to advanced and include both games and videos. Spelling and vocab lessons can also be included in the curriculum.
Curriculum Format
Typing Agent is designed to be as engaging and personalized as possible for students who are learning a skill that might otherwise be boring. Fun keyboarding videos teach students everything they need to know about keyboarding, including important tips and tricks. The program uses AI to personalize the curriculum for each student, with custom lessons and Typing Targets.
Students earn Experience Points and Gritcoins, which they can use for game time and to personalize avatars, wallpapers and unlock levels and new apps within the program. Multiplayer typing games allow students to compete against their peers. There are also Extra Typing Challenge lessons that allow students to push themselves just a little more.
Younger students will delight in the K-2 Mountain World, which familiarizes them with the alphabet, mouse skills, the keyboard format, and introductory typing with fun animations and stories. There is a larger font for easy reading and offline activities to reinforce skills. There are also specialized programs for students in grades 3-5, 6-8, and 9-12.
Students also have the ability to download a Typing Agent app for a Type Your Own Adventure game. There, they join characters Ty and Keyana on an adventure to save the world from menacing characters trying to rid the world of keyboarding. The program follows a choose your own adventure format, where students get to determine the direction the story goes as they type.
TypingClub is based on the idea of practicing each lesson until the student has reached a certain level. It includes animated story typing and games. Levels, badges, and stars provide extra motivation for students to keep going.
Animated Story Typing Series include 'Going Solo', in which students help a character named Lauren prepare for her big flight test, and 'Ava & the Rabbit', in which students go on a magical adventure exploring Ava's mysterious friend's world.
With the paid version, students and teachers can replay attempts to see where students are struggling. There is an iPad app option that provides more accessibility, depending on the technology available to each student.
Like Typing Agent, TypingClub has a special program for younger students. Jungle Junior teaches Pre-K through first-grade students to associate each letter on the keyboard with the correct finger while improving alphabet recognition, dexterity, and familiarity with technology.
Accommodating All Students
Typing Agent has adaptive, personalized lessons based on the students' learning needs as well as what they are struggling with within the curriculum. Typing Agent is dedicated to making its program available to all students and includes accommodations like different fonts and font sizes, contrast levels, text-to-speech, closed captioning, one-handed typing, and more.
TypingClub includes accessibility features like different font sizes, high-contrast themes, one-handed typing, voice-overs, and the student's choice of screen-reader. TypingClub provides customizable games for different lessons.
Certifications
Typing Agent meets Common Core state standards. It is also a Student Privacy Pledge signatory, in line with its digital citizenship curriculum. TypingClub is a Google for Education Partner.
The Best Typing Program for Your Students
Ultimately, the decision to use Typing Agent, TypingClub, or another typing program depends on your students' individual needs. Both typing programs can be excellent choices depending on the learning priorities of your school or district.
If you have more questions about Typing Agent, you can reach out by phone at (425) 880-2500, toll-free at 1 (877) 775-1129, or by email at support@typingagent.com.